9 November 2022 | Mezzanine The Fine Wine Specialist
West Coast Wine Country with Jackson Family Wines
- Louis Hastie, VIC Area Manager
To say that after two years of no international travel I was excited to get abroad, would be an understatement. When given the opportunity to travel to the United States as a guest of Jackson Family Wines, I was understandably excited, especially to see the West Coast wine regions of Northern California. Despite being a short, sharp, five day trip through the growing regions of Napa and Sonoma, plenty of ground was covered.
Hilary Morgan (QLD Area Manager) and I began our tour visiting the diverse growing region of Sonoma County and its various AVAs (American Viticultural Area). We were fortunate to visit wineries from the greater Jackson Family Wines portfolio. Jackson Family Wines is one of the most significant, quality wine companies in the world with a number of high quality and premium wine estates in America and across the world, which we at Mezzanine The Fine Wine Specialist alongside our partner company red+white represent a large number of them in Australia.
The first visit was Hartford Court in Russian River AVA. Hartford Court produces high quality cool climate pinot noir and chardonnay, along with great examples of alternate varietals such as chenin blanc. I was taken aback how the maritime influence from the nearby Pacific Ocean cooled the area to temperatures well below the greater Sonoma region.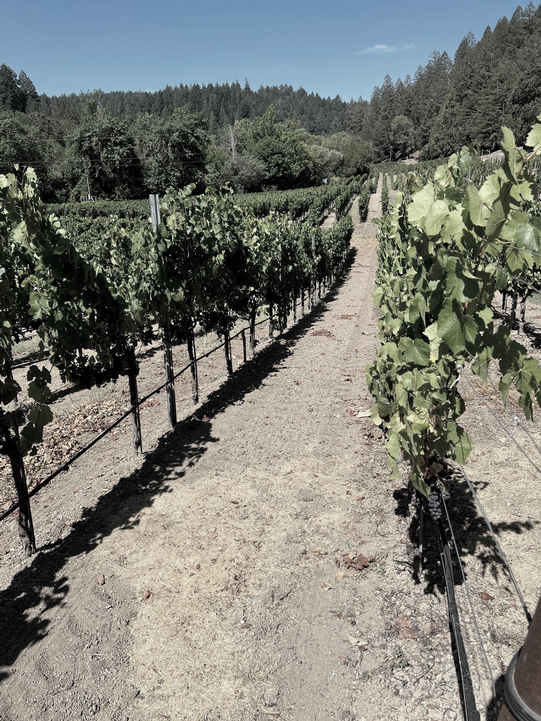 Hartford Court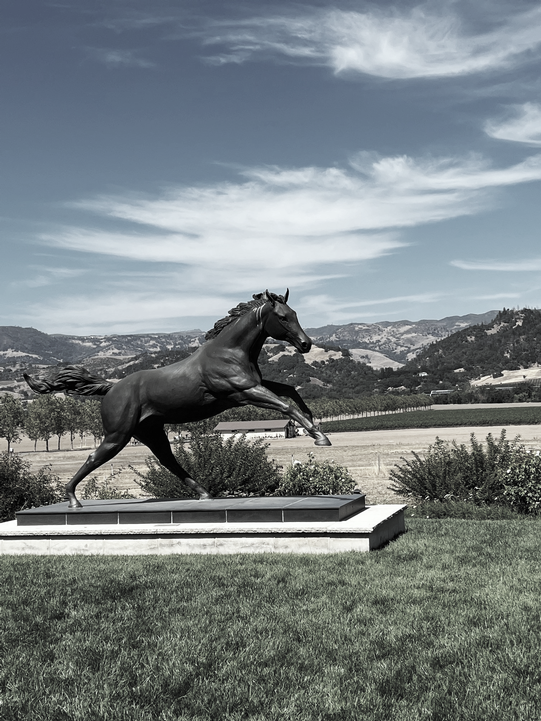 Stonestreet Estate
Next stop was arguably one of the more impressive visits of the tour, Stonestreet Estate based outside Healdsburg, overlooking the Anderson Valley AVA. Although it is very high in altitude when compared to the rest of the county, there was a noticeable jump in temperature and intensity of the sun from being further inland. Whilst looking across the valley towards the winery's Alexander Mountain estate, I was reminded of Coal River in Tasmania, with the warmer than average day time temperatures cooled by the high elevation of their plantings.
Diurnal temperature variation, especially at night, helps maintain the wines noticeable acidity and freshness. This was especially apparent when tasting through the chardonnay and cabernet from the Mountain estate, with both showing structure and elegance. I especially enjoyed tasting the back vintage 2010 Rockfall cabernet sauvignon, a wine which was truly in its prime and showing sophisticated tertiary characteristics. I was also taken aback by the quality of the winery itself, with a huge selection of fermentation and maturing vessels available to the winemaking team. A true winemaker's nirvana to be sure.
To finish off the day, we headed back towards the coast to Kendall-Jackson's home estate near Santa Rosa for a tasting and dinner. The estate, almost French in appearance, was host to one of the great sensory activities I have seen at any winery. Planted in the estates garden was a planting of all major grape varietals, placed there for visitors to taste in the unprocessed true form. To further express this pursuit, the garden was planted with various herbs, fruits and flowers which show the typical flavours and aromas of these grape varieties.
We then tasted through the Kendall-Jackson range of wines, including the single vineyard estate wines. I thoroughly enjoyed seeing the site specificity of these wines, as it showed variance in soil, site, and winemaking styles. Overall, this was a great exercise in sensory training and a truly worthwhile experience.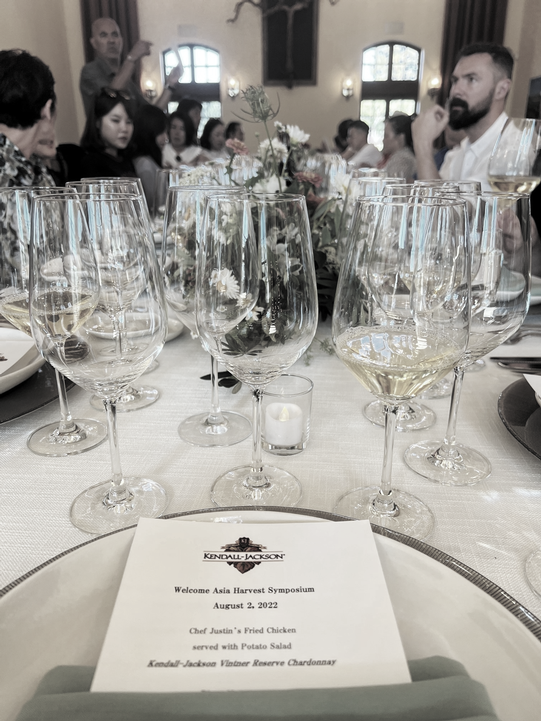 Kendall-Jackson tasting
Next we headed into the heart of the Napa Valley to Freemark Abbey and St Helena. Situated in a lush, green valley, the winery is a restored 19th Century building which is now host to a vast bevy of tasting experiences and spaces. The winery is famed for its inclusion in the famous 1976 Judgement of Paris tasting, in which its cabernet and chardonnay won great acclaim. We were treated to a tasting of the current vintage 2020 Napa Valley chardonnay, a wine which shows exceptional restraint, structure and elegance when compared with other Napa producers. We also conducted a deeper look at the winery's cabernet production, looking through not only their Napa Valley cabernet but also their single site expressions from the Rutherford AVA. Both the Sycamore and Bosche cabernet showed structure and acid that balanced their full-bodied fruit spectrum out into a truly elegant example well worthy of aging.
To finish the day, we travelled up the long winding road of Mt Veeder, to visit the Jackson Family vineyards of Mt Brave and Lokoya. Sitting high above the valley floor (400-550m elevation), the Mt Vedeer AVA is one of the Napa's highest and coolest growing regions. It was truly a spectacle to look down the valley towards the valley floor, the mountain patchworked with plantings of cabernet and other red varietals. We tasted through the Mt Brave Cabernet and Merlot 2018 vintages and onto the Lokoya Cabernet Sauvignon 2018. It was a truly special experience to taste these wines in the vineyard, as it gave great context to how their elegance and structure is achieved in such a warm growing region.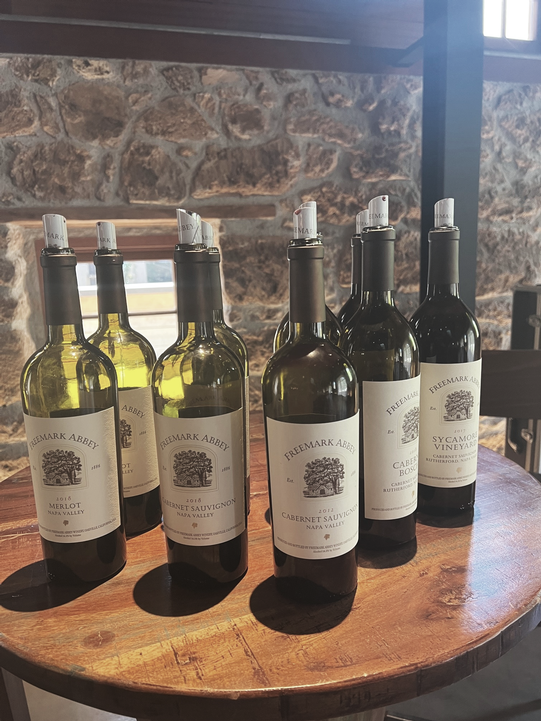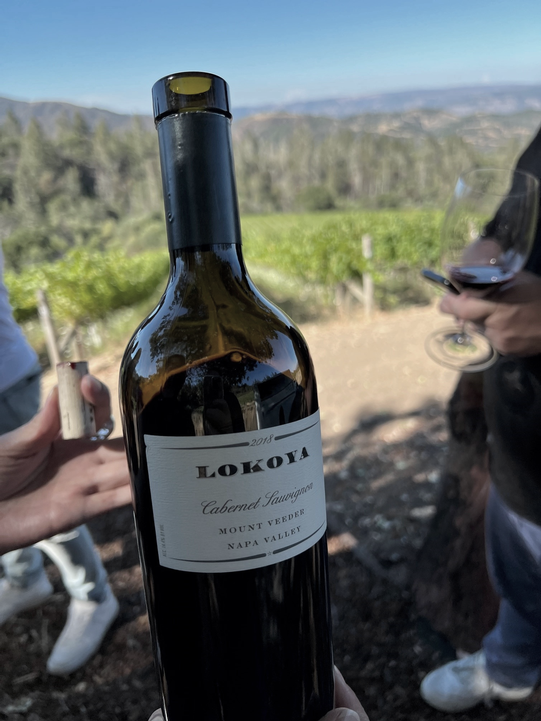 On our final full day, we headed to the home of La Crema at Saralee's Vineyard. There we were fortunate enough to be hosted by Greg Brewer of Brewer-Clifton and Jill Russell of Cambria to briefly taste through the Family's Santa Barbara wines. It was great to get a snapshot of this different growing region as we were unable to visit that far south this trip. To finish up, we were hosted by Riccardo from Jackson Family and tasted through the various single site expressions of the La Crema vineyards. I thoroughly enjoyed seeing the difference in site and climate from the various wines, especially those from cooler regions such as Russian River against wines from Saralee and further inland.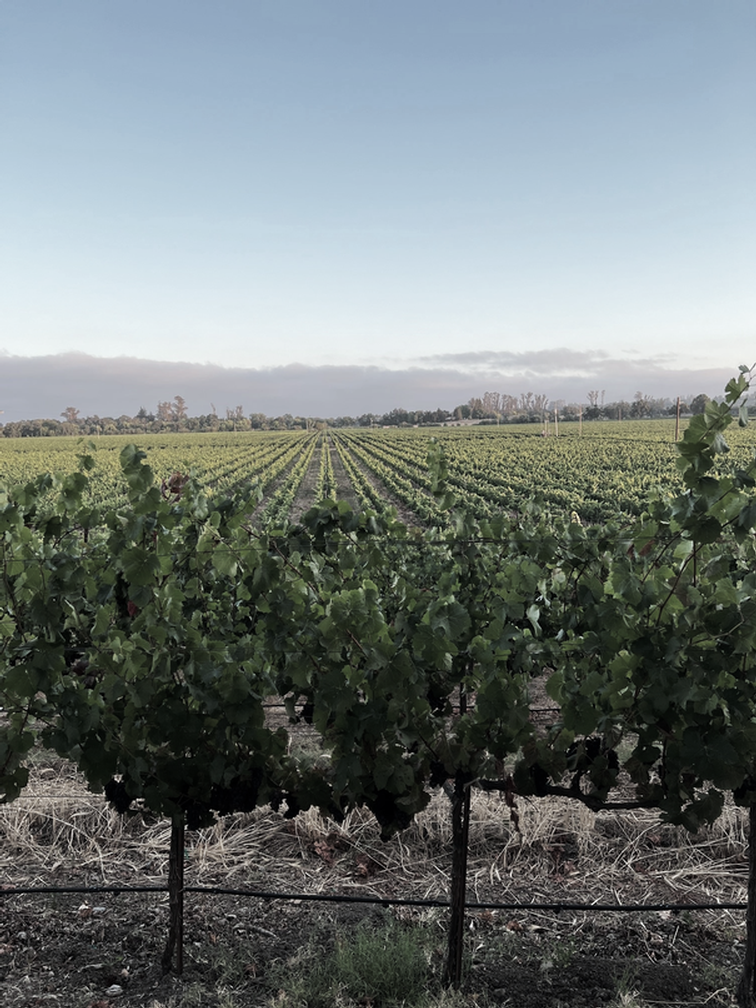 La Crema Saralee's Vineyard
As a special treat on the morning of departure, we visited the Family's premier estate at Verite near Healdsberg in Sonoma County. On arrival, most of the group remarked how Bordelaise the cellar door had been constructed, it was a sense of no expense spared. This was also true of their 3 wines produced, the La Muse, La Desir and La Joie. All wines are produced from high quality microcrus across Sonoma County which are selected and fermented separately by acclaimed Bordeaux Vigneron Pierre Seillan. I was taken aback by the purity and power of these wines, all showing true expression of their dominant varietal. They showed elegance and nuance that would hold them in great stead when put against the great houses of left and right bank Bordeaux. It was a great treat to finish the tour on this note, and not one I will forget soon. It's amazing to see the attention and detail that they offer one of their top estates observed in all of the brands that we visited and represent.
The tour was an incredible eye-opening experience, especially to have access behind the scenes of such iconic producers such as Freemark Abbey, Stonestreet Estate and La Crema. Each producer showed a true sense of their own style and sense of place, utilising their own sites to produce wines of purity, elegance and structure. I truly enjoyed the experience and highly recommend anyone visiting Northern California to reach out to Jackson Family for a visit to any of these great producers.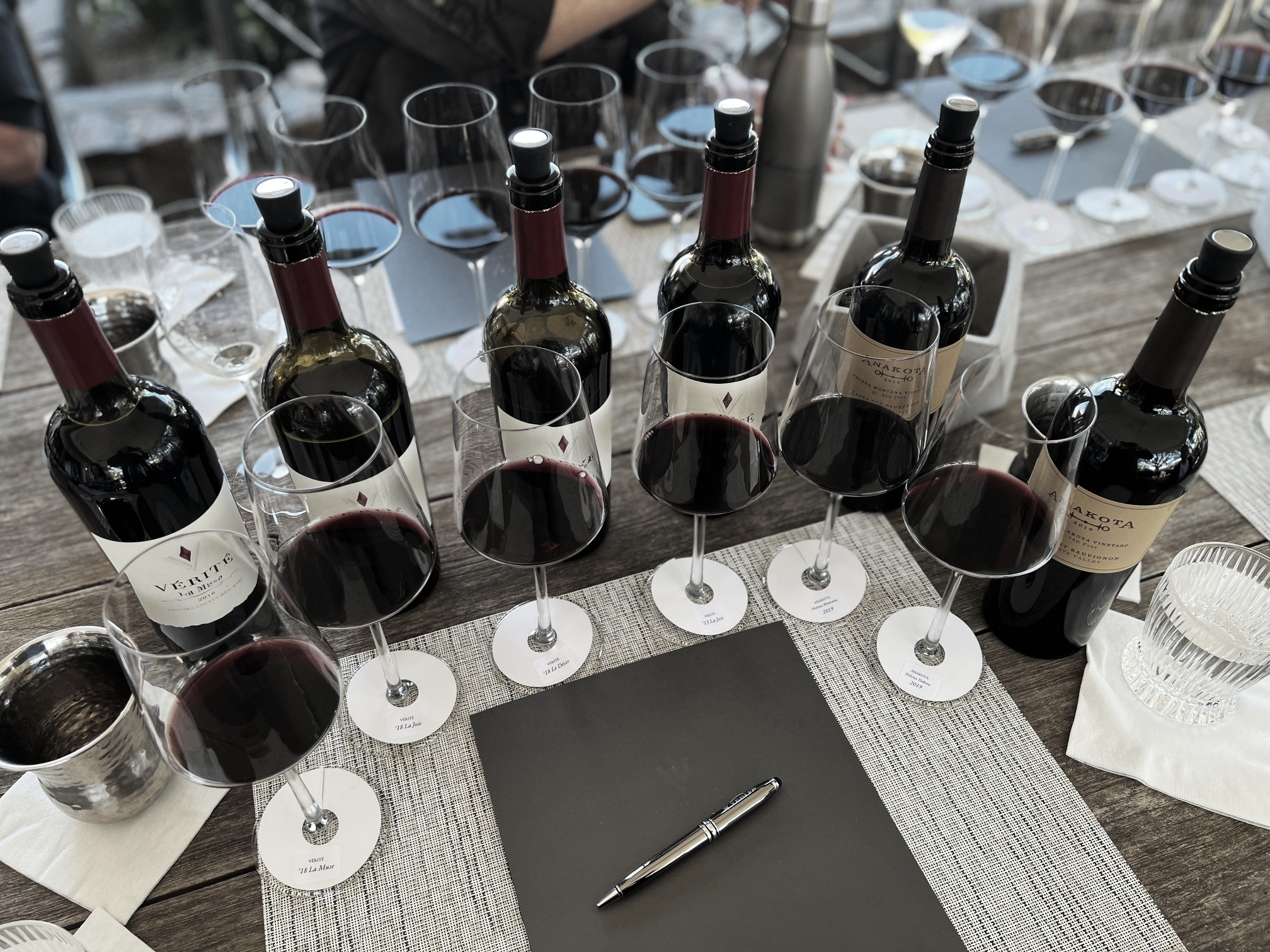 Verite tasting