26 September 2023 | Mezzanine The Fine Wine Specialist
New to the Collection: Southern Light Vineyards
By Hayley O'Heare, Brand Manager - Southern Light Vineyards
Southern Light Vineyards was born out of the desire to craft wines of individuality from some of Victoria's best cool-climate vineyards. Part of Joval Family Wines, this project is the culmination of our 40 years' experience in wine and is led by a small team of people with a shared passion for hand-crafted wines made without compromise.
We grow grapes in the Mornington Peninsula and the Yarra Valley. Each of our sites are unique, but the common thread among them is vineyard diversity. Whether we are referring to vine age, clonal selection, aspect, altitude, or exposure – diversity plays a key role in creating wines of depth and complexity.
We firmly believe that all great wine is crafted from the ground up. Each block of the vineyard is hand-picked and managed gently from vineyard through to press, and blocks are fermented and matured separately until blending.
---
"It's all about respecting the fruit. I prefer to guide the wine along its own journey."
- Anthony Fikkers, Winemaker
---

Southern Light Vineyards' winery is in Healesville, in the Yarra Valley region of Victoria. It sits amongst a historical vineyard site that has been growing vines for over 40 years. The winery itself is built for small batch processing which helps us to produce wine of high quality. All batches are matured separately on site in distinct cool and warm rooms to manage fermentation.
We select barrels from some of the finest French coopers which allow the fruit to really shine; we're not aiming for a big, woody imprint on the wines. We use new oak to lift the fruit and help carry it to the finish, adding length and line.
Our first release will be the 2021 Pinot Noir and Chardonnay from Ghostgum Vineyard. Situated atop Main Ridge in Boon Wurrung Country on the Mornington Peninsula, this site is one of the highest elevation vineyards on the Peninsula at approximately 174m above sea level. Here we farm just 5.5 hectares of Pinot Noir and Chardonnay on a gentle, east-facing slope.
These wines are made to speak of place, and are reflections of the high-altitude, cool and windy site where the grapes are grown. This is balanced out beautifully with a long growing season with plenty of sunshine which is typical of the Mornington Peninsula's maritime climate.
---
Ghostgum Vineyard produces a powerful Chardonnay with plenty of palate cleansing acid to frame its fleshy stone fruit character, and a Pinot Noir bursting with aromatic complexity, a savoury palate, and an amaro-like punch thanks to around 60% whole bunch ferment.
---
With only 500 cases made between both wines in 2021, this truly is a passion project with a no compromise approach.
In future, we'll also look to release wines grown from our Yarra Valley vineyards, but for now, we're very excited about the release of Ghostgum. We hope Mezzanine The Fine Wine Specialist and our customers enjoy selling and drinking these wines as much as we did making them.
Contact your Area Manager to order now.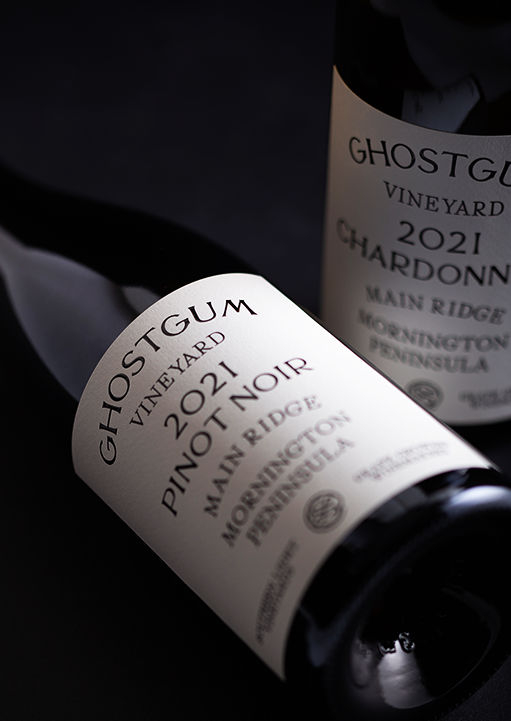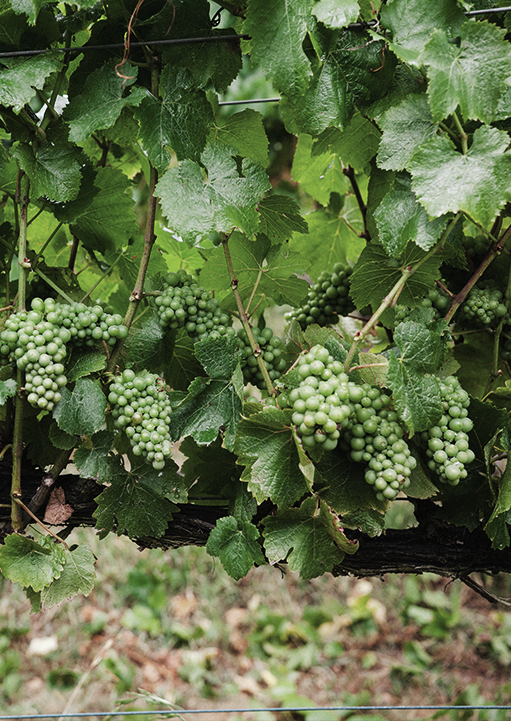 ---
What others are saying
2021 Ghostgum Chardonnay
Vinous | Angus Hughson | 95 points
"The super stylish 2021 Chardonnay Ghostgum Vineyard offers a delicious mix of power and complexity. Rich nectarine and peach skin layers are beautifully intertwined with savory, nutty tones. Juicy acidity keeps the excellent flavour volume tight. Gunflint nuances emerge on a long, textbook finish."
The Wine Front | Kasia Sobiesiak | 93 points
"A hit of lively aromas, orange peel, tarragon, cumin, melon skin, peach. The perfume turns into the likes of pastis, herbal with a sweet tune, laced with cedar, crushed bark spice, and almond friand for the lees-y notes. Excellent mid-palate weight, filled with stone fruit and a hint of pineapple, concentration is there but the wine is not heavy. Chalky aftertaste follows with a high cleansing acidity but it's milky soft. Elegant and satisfying flavours are spread evenly. Pretty good debut with Mornington fruit but I guess it's no incident, just good fruit and skilled winemaking. Touch and go 94pts as GW would say."
2021 Ghostgum Pinot Noir
Vinous | Angus Hughson | 94 points
"The 2021 Pinot Noir Ghostgum Vineyard displays a combination of elegance and power of red cherry, damp earth and star anise aromas with a brooding core of charcuterie. It is a finer, ethereal style, with waves of spicy, red berry fruit flavours and a pinpoint balance between fresh acidity and silky tannins. It shows serious finesse and is delicious now but will hold over the medium term."
The Wine Front | Kasia Sobiesiak | 92 points
"Quiet nose at first, needs a moment to open up. It's low key, showing mineral tones of wet rocks, sous-bois, savoury and meaty elements, dead flowers. It ventures strongly into the umami zone. Spice and clean plummy fruit on the palate, it has a beautiful detail, sour juice and a hint of liquorice and nougat that develops in the glass. There's a fair bit of whole bunch in here, but well tucked in, not sticking out. Tannins are supportive and in the background. Finished on a blood orange, herbal amaro lift. Nicely 'Yarrafied'."