5 December 2022 | Mezzanine The Fine Wine Specialist
Champagne Taittinger - A visit of pure pleasure
It was with great fanfare and palpable excitement to welcome Clovis Taittinger and Ronan De La Morlais, to the warm and sunny shores of Australia in September 2022. Since taking on exclusive distribution of the family owned champagne house in late 2020, Mezzanine the Fine Wine Specialist have brought this historic, elegant and luxurious champagne brand to more Australians than ever seen before.
With pleasure, Clovis and Ronan connected with new friends and old through a range of exclusive cocktail parties and masterclasses held across the eastern seaboard. Through these bespoke and fantastic events, the story of Champagne Taittinger came to life. It is a house of elegance, of history, of quality, but most importantly, is on a mission to share life moments of luxury, pleasure and pure enjoyment.
Here are a collection of musings from the team across Victoria, New South Wales and Queensland on their impressions of this milestone visit and most overdue welcome to our beloved Champagne house.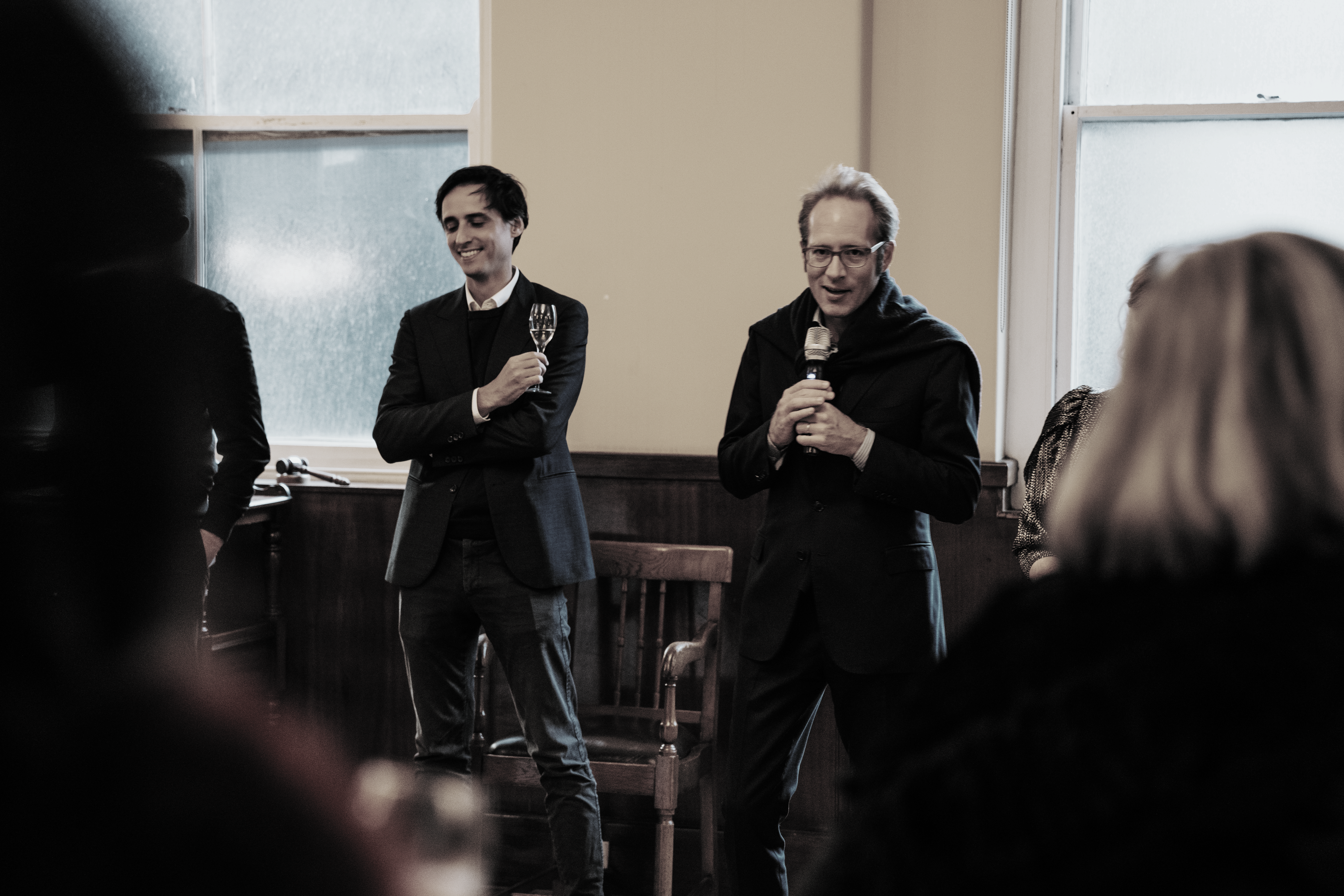 Ronan De La Morlais (left) and Clovis Taittinger (right).
Lewis Parker – VIC Area Manager
The Taittinger visit brought an incredible amount of excitement. Although I was only four months into my career with Mezzanine The Fine Wine Specialist, I could see just how much the visit meant to the entire Joval family. For such an iconic producer to come all this way, it was extremely special. I was truly grateful to have such an involvement in the few days that Clovis Taittinger and Ronan de la Morlais spent with us in Melbourne.
My involvement with the trip started with a cocktail party on the first night hosted by the Kelvin Club. The guests for the event were made up of Mezzanine TFWS staff, key Taittinger customers and Kelvin Club members. It was fantastic to see both Clovis and Ronan interact with the guests at ease and to experience the event with such joy. It was particularly wonderful to see Clovis and Miss Pearls from the Kelvin Club reunited. Their relationship has blossomed over many years now and it was a true sign of just how much relationships mean not only to Clovis, but the Taittinger brand itself. A three-piece jazz band played throughout the evening, while guests enjoyed several small canapes that were paired with the NV Cuvee Prestige Brut and the NV Prestige Rose. It was great to see every guest chop and change between each wine throughout the night, trying to determine just which one was their favourite! It was an incredibly fun night and was a fantastic representation of what the brand stands for.
The next day was one like I had never experienced before. We started off with a masterclass for the staff at Gimlet at Cavendish House. They have been pouring the 2011 Comtes de Champagne for some time now and it was great for Clovis to stand in front of their team to express the history and story behind not only the brand, but the Comtes de Champagne itself. One thing that Clovis made a great deal on was the importance of relationships between the brand and the consumer. The relationship between Gimlet at Cavendish House and the Comtes de Champagne is one that is relatively new, but I am incredibly excited to see it blossom over the next few years. The staff at Gimlet were incredibly grateful for the experience of the masterclass and were seriously wowed by both Clovis and the Taittinger Champagnes. With an experience like this, I wouldn't be surprised to see the Comtes de Champagne poured at this wonderful venue for many years to come.
After the masterclass, Myself and Brennan Prior were lucky enough to sit down with Clovis and Ronan for lunch. This was an extraordinary experience where I had the opportunity to ask Clovis and Ronan much more in-depth questions, not just about the Taittinger Family, but their individual lives and passions too. Both gentlemen were so personable and easy to get along with. I left the experience with even more passion for the brand, and even more excitement to be able to represent them here in Australia. I look forward to one day visiting this Champagne House and welcoming back both Clovis and Ronan in their future trips to Australia.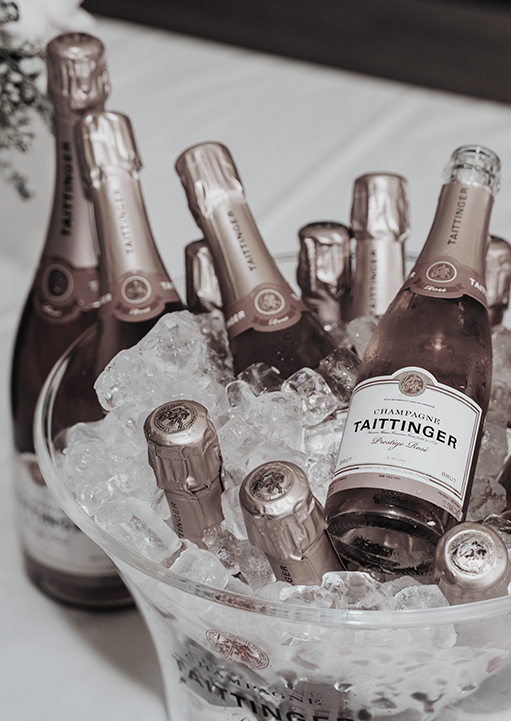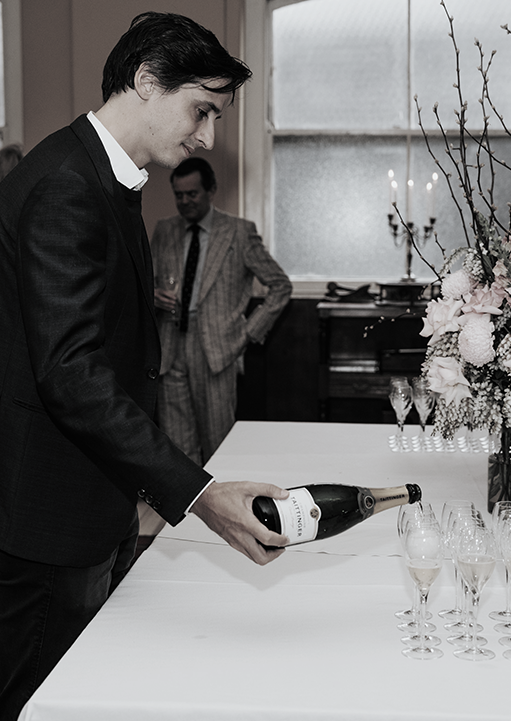 Marion Chanliaud – NSW Area Manager
Meeting Clovis was quite the encounter. As a true Parisian French artist and philosopher, he took the team and our Sydney customers through a trip to Champagne, far from the winemaking details and logistics but more focused on experience and style. Champagne is not a wine, it's an art de vivre, a moment to celebrate big milestones or just the pleasures of life shared with loved ones.
The Swillhouse team was very excited to get an opportunity to meet the heir of such an iconic Champagne house and the turn up to our masterclass on a public holiday was really impressive. Clovis was extremely approachable and really enjoyed talking to young wine people who displayed such an enthusiasm for the brand.
Gae Grant – QLD Trade & Brand Specialist
It was obvious from the first meeting with Clovis and Ronan, the objective was all about our relationship. We very comfortably dined with them both, on numerous occasions over their time in Brisbane.
Dinner at Greca with the Queensland leadership team set the scene for a large consumption of Champagne.
A highlight for the team was the meet and greet. We tasted through the full range of cuvées and were very spoilt to try the 2012 Comtes de Champagne. This was a special moment for the team who had travelled from afar to meet the infamous Clovis Taittinger. The team realised very quickly that there was to be no pomp and ceremony, but genuine comradery and story telling. A beautiful lunch on the waters edge at Bar Alto with the team sealed the devotion to Champagne Taittinger.
We hosted a key account Soiree at Otto Ristorante Brisbane, on the banks of the river. 20 key customers and some partners shared exquisite Champagne and canapes and a had a unique experience mingling with Clovis & Ronan, who were very engaging and won a few hearts. Bernadette O'Shea joined us as our special guest at dinner with the Queensland Managers and sat between Clovis and Ronan and felt very special.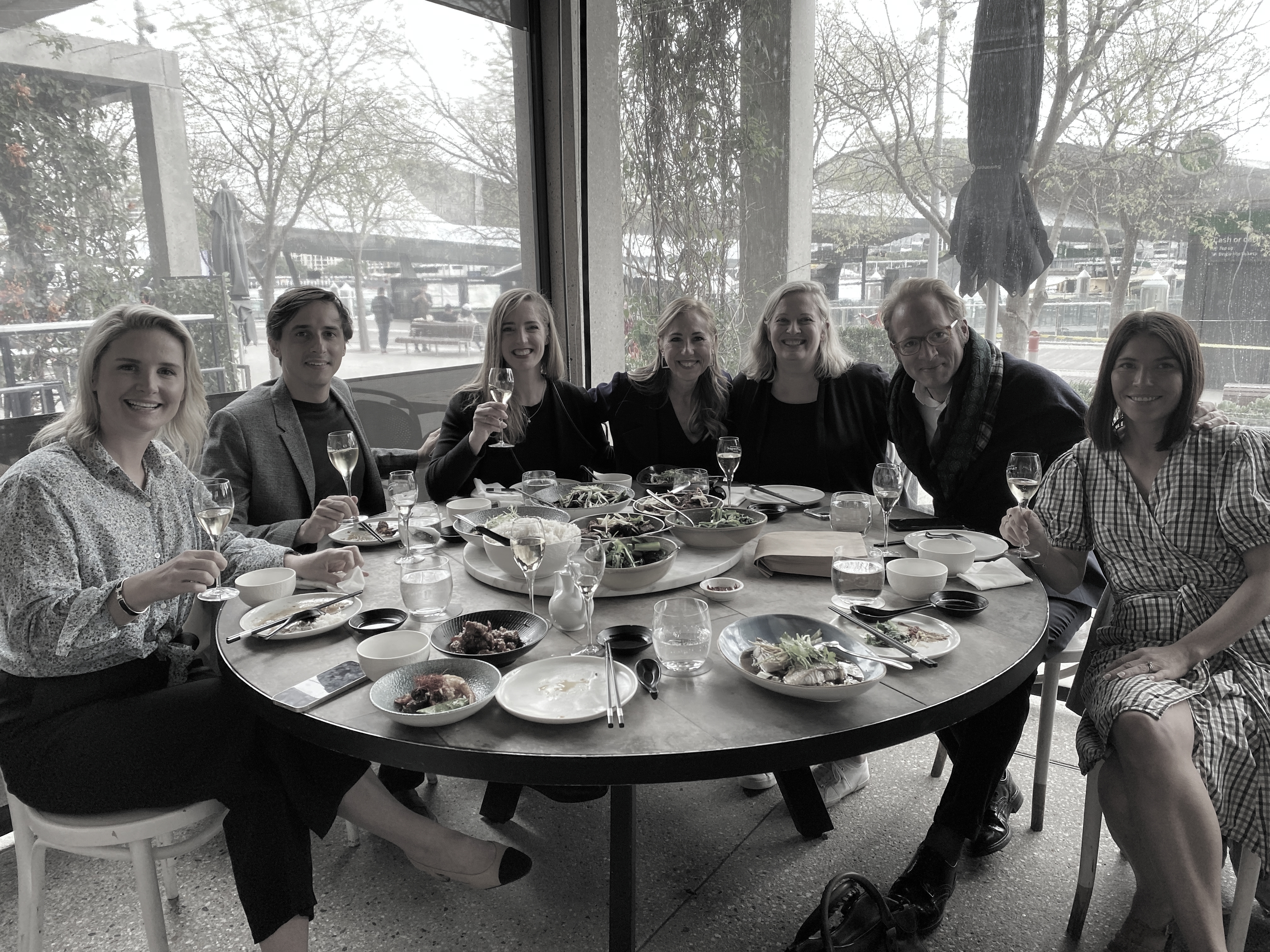 Clovis, Ronan, The Fink Group and the MTFWS team.