3 May 2023 | Mezzanine The Fine Wine Specialist
Celebrating 60 Years of Henschke's Hill of Grace Shiraz
Mezzanine the Fine Wine Specialist is honoured to celebrate the extraordinary milestone that is 60 years of Hill of Grace Shiraz. The Henschke winemaking tradition is incredibly special and rich in history, and the Hill of Grace story is no exception.
---
"The 2018 Hill of Grace marks 60 years since my father Cyril captured the first shimmering edition of Hill of Grace Shiraz from the 1958 vintage. In 2018, we also celebrated 150 years of Henschke family winemaking. Nature collaborated too, delivering an exceptional season, that reflects the inherent characters of this wondrous vineyard site and will be considered a standout of this decade."
- Stephen Henschke, fifth-generation winemaker
---
Fourth-generation winemaker Cyril Henschke took a trailblazing leap of faith when he began crafting single-vineyard, single-varietal wines, going against the prevailing Barossa norm of making fortified or blended wines. Following the success of his Mount Edelstone Shiraz he turned his attention to the small planting of shiraz, lying opposite the Gnadenberg Lutheran Church and farmed by his brother Louis. This congregation of ancient vines had waited in anonymity for 100 years before Cyril produced the first Hill of Grace Shiraz, a wine that would become recognised around the world.
Hill of Grace Shiraz is produced from pre-phylloxera material brought from Europe in the mid-1800s. The original vines were planted around 1860 by ancestor Nicolaus Stanitzki, in rich alluvial soil in a shallow fertile valley just north-west of the Henschke family winery. The vineyard comprises of red-brown earth grading to deep silty loam and has excellent moisture-holding capacity for these dry-grown vines. The Hill of Grace vineyard is a unique, delineated, historic site that lies opposite a beautiful old Lutheran church, which is named after a region in Silesia known as Gnadenberg, translating to 'Hill of Grace'.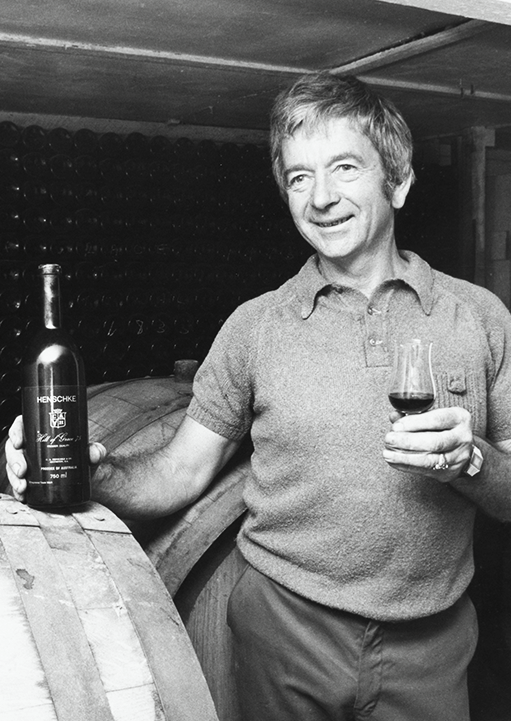 Cyril Henschke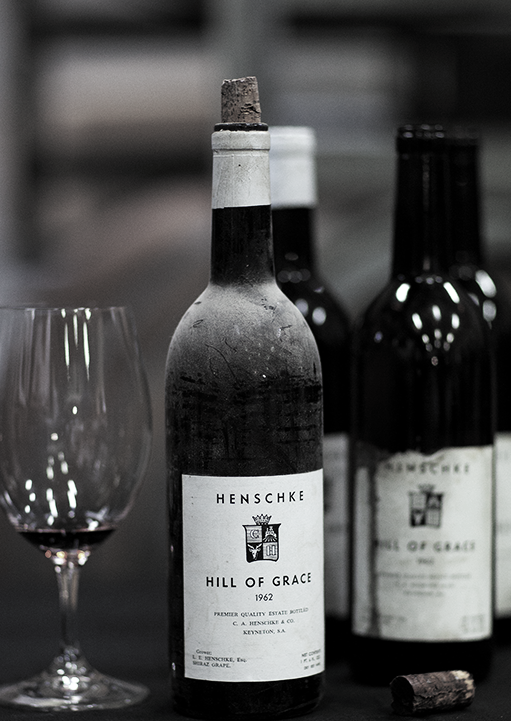 1962 Hill of Grace Shiraz
The story of a single vineyard
The Hill of Grace vineyard lies at the crossing of two dirt roads, just 4 kilometres north-west of the Henschke cellars. It is fenced with humble post and wire and not on a hill as the name suggests, but in a fertile valley that was once a riverbed. The adjacent stone ruins of an old post office are a reminder of a village faded into time.
The site is just 8 hectares on the original 32-hectare block acquired by Charles Flaxman for £1 per acre in 1838 and was leased to early Silesian settler Nicolaus Stanitzki in the late-1850s, who eventually purchased the block on 22 April 1873 for £480.
The first Henschke on these lands was Johann Christian. He came to help his son Johann August establish a farm in the new community of Parrot Hill near Keyneton in 1858. Even as the villagers dug in crops and felled trees for shelters and fences, plans were made for a simple church that would be the heart of their settlement. Completed in 1860, it was named Gnadenberg Lutheran Church, after a region in their homeland. Church and vineyard would share this name or at least the English translation: Hill of Grace.
It is believed the shiraz cuttings planted by Nicolaus Stanitzki around the year 1860 were transported by early settlers from the Hermitage region of France.
Thirty years after Nicolaus planted the Hill of Grace vineyard, it was sold by his heirs to Johann Christian Henschke's son Paul Gotthard. But Nicolaus's connection to the vineyard was not lost. His granddaughter Johanne Ida Selma Stanitzki married Paul Gotthard's son and winemaking heir, Paul Alfred. This entwined the family histories for all time, with Nicolaus and Johann Christian joined as maternal and paternal forebears of the Henschke wine dynasty.
After Paul Gotthard's death in 1914, the vineyard was transferred to his son Julius Philip Henschke. Then in 1951, ownership was transferred again within the family to his nephew Louis Henschke, brother of fourth-generation winemaker Cyril Henschke.
Louis Henschke added shiraz, riesling, semillon, mataro and sercial to the shiraz on the Hill of Grace vineyard, gently nurturing the vineyard using the traditional organic ways of his ancestors. After his death in 1990, Stephen and Prue continued to protect and care for the small vineyard.
For more than 100 years, the Hill of Grace vines danced unremarkably through the seasons before twenty-eight-year-old winemaker Cyril Henschke decided to take a leap of faith and began crafting beguiling single-vineyard, single-varietal wines in the Eden Valley.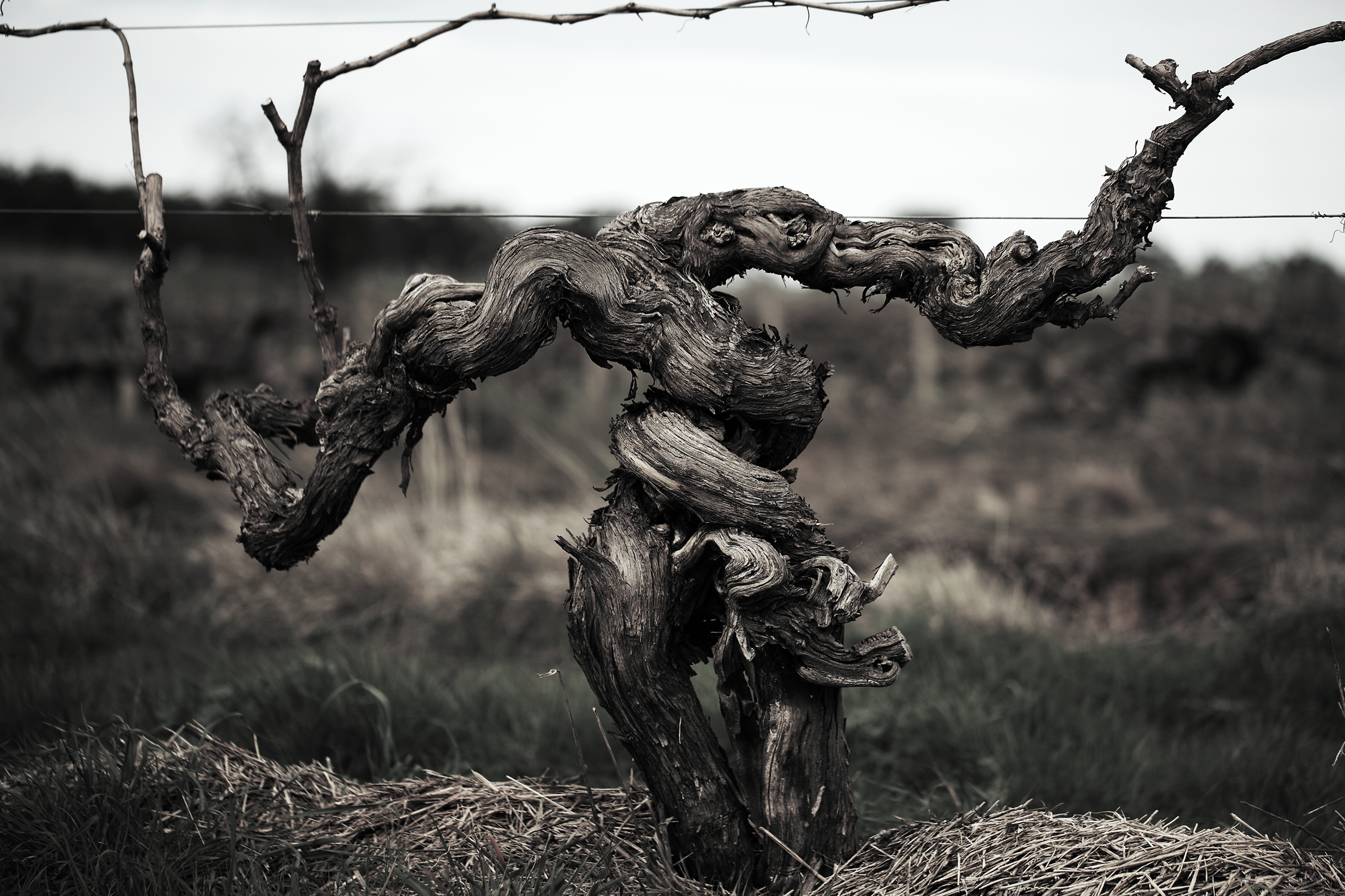 Hill of Grace Shiraz Grandfather vine
Today the oldest Hill of Grace vines are over 160 years old. Planted on their own roots they are a living genetic treasure: a poignant reminder of the European vine heritage destroyed by phylloxera in the late-1800s.
Just half of the Hill of Grace vineyard is planted with shiraz—designated as eight individual blocks. Only the six oldest blocks are used in Hill of Grace Shiraz. The remaining 4 hectares are planted with riesling, semillon and mataro. For many years Hill of Grace Shiraz was the solitary star of the site, but in 2001 Stephen and Prue created Hill of Roses from the nursery shiraz vines. In 2008 they made the first Hill of Faith Mataro and, in 2012, the first Hill of Peace Semillon. These additional single-vineyard wines are only released from the best seasons.
Centenarian and ancestor vines provide the magical ingredients in Hill of Grace Shiraz. Majestic and gnarled, the oldest, known as 'The Grandfathers', are dry-grown—which allows the plants to find balance with nature—and are naturally low yielding due to their age. They deliver berries of incomparable texture and complexity, which gives Hill of Grace its trademark elegance, intensity and finesse.
The average yield is around 2.5 tonnes per hectare. Shiraz is planted with 3.05–3.55 metres between rows and anywhere from 3.1–4 metres between vines. The 2-metre high Vertical Shoot Positioned (VSP) trellis has a fruiting wire carrying two canes, with a bud number of around forty to fifty per vine. The foliage is positioned in a vertical curtain, which helps to introduce more light into the canopy. Less vigorous blocks have a drooping canopy.
Yield estimates are carried out in early summer and cropping levels are kept in check by bunch-thinning at veraison when required. Grapes are usually picked in early to mid-April at a sugar level of around 24 degrees Brix. There is always a good acid/pH balance from this vineyard and very high anthocyanins (colour pigments) in the berries.
Fruit is picked across the six shiraz blocks at different times, according to ripeness and maturity, and the wine is made as individual lots. Keeping the blocks separate allows for variation of soil types, vigour and age of the vines—all of which produce different flavours that combine to make the complete wine.
---
"These wines are the history of the settlement of South Australia – a story of wine, of culture, of the region and of it's people. It's really quite extraordinary."
- Stephen Henschke, fifth-generation winemaker
---

The vineyard is run using organic and biodynamic practices. Permanent swards of mainly native grasses are mowed low in the rows. Organic compost covered by a wheat-straw mulch under the vines helps to retain soil moisture, build up organic matter and microbial life, and inhibit weed growth. Constant monitoring for pests and disease through the growing season reduces the need for spraying. Local native plants are used to provide nectar, which attracts beneficial insects that assist with pest and disease control.
The influence of the moon cycles has been an important and familiar feature in the operation of the Henschke vineyards. Mysteriously the Hill of Grace vines, whether the vintage arrives early or late, are ready for harvest close to the full moon after the Autumn equinox (Easter). Decades of vintages have shown that this is the optimal time in the moon cycle for harvest. Curiously, by the calendar, the date of Easter can vary by up to thirty-five days.
When Stephen puts his nose to a glass of Hill of Grace Shiraz, there is far more to discover than just the flood of aromatic molecules. There is the magnificent weight and beauty of the wine's history: 'There are echoes of the church; joy-filled hymns, melodies of euphoniums and trumpets; the families who loved and wept, worked and sweated in the vineyard; who baked and broke bread, picked grapes, lived and died here… that is the life blood of this wine'.
Select members of the MTFWS sales team and trade customers from across the country came together to celebrate this momentous milestone – not just for Henshcke, but for the enitre Australian wine industry. We toasted to the courage and innovation that Cyril undertook, and celebrated the legacy that Stephen and Prue have continued. We share our congratulations with the entire Henschke family and winery team, and invite you to also share in this incredible milestone.
View Stephen and Prue Henschke introduce the 2018 Hill of Grace.
Hill of Grace vineyard